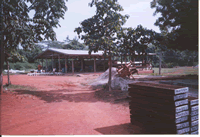 Contacts
Phone :
+44-(0)-7907 529 407
Email :




Mineral Resource Evaluation | Geological Database Design & Implementation | Training, Reviews & Audits | Customisation
Capabilities

In all cases, geological input is emphasized and consultation with site geologists a priority.

Database Validation & Audit

Verification of integrity of database information, validation of drill hole data and geological classifications. Assessment of quality control programmes, sample collection protocols, geological interpretation of ore controls.

Construction of Geological/Orebody Models

Interpretation of geology and/or grade distributions using client data, generation of geologically consistent wireframe models.

Geostatistical Evaluation

Assessment of sample compositing. Analysis of classical and geostatistical distributions of grade variables within interpreted geological/grade domains. Geostatistical analysis of grades by geological/grade domains.

Grade Interpolation

Kriging neighbourhood tests for block size and determination of estimation parameters. Estimation of grades using conventional (polygons, sections) and/or geostatistical (kriging; linear & non-linear, uniform conditioning) techniques.

Resource Reporting

Reporting Resources/Reserves to AusIMM /JORC standards. Presentation of grade-tonnage distributions.